From start to finish Elements of Straefor
WRITING
I met author Nicolas Forzy at the launch of his book Alphanumeric at the Dubai Mall in October 2014. It's a great book, and he is such a cool guy that when I heard he was tutoring a course to 'complete your novel in five months', I begged to go.
The course was supported by the Emirates Airlines Festival of Literature and was held at the Dubai International Writers Centre which is in Al Shindagha. Al Shindagha is a historic neighborhood of Dubai and very close to my house.
I started in September 2015 when I was 12 years old, and went every Monday night for five months. The idea was to get the novel started and on its feet and to a point where I couldn't quit.
The first two months were planning and setting the scene, then three months of writing with Nicolas critiquing and suggesting what did and didn't work.
Some weeks the words just flowed and others it was like hitting a wall, but with encouragement and support from the Foundation and my family, I eventually finished... one year later! CERTIFICATE
I was fortunate to have the opportunity to share the manuscript with many agencies, large, small and based in the UK, USA and with interest even from Singapore it was overwhelming. My family and I were happy when we had the chance to work with a UAE based publishing house. It made communication easier, but I had no idea what I was in for - writing was only the beginning.
PUBLISHING
The manuscript was read by the publisher who then gave it to the Editor, weeks later it came back with grammar corrections, and I expected they would make some suggestions here and there, right? Whoa, oh yeah, a couple of weeks following the manuscript comes back with of course typo's and grammatical errors highlighted, but also chunks of text that could / should be changed and even re-written in many places. It was another big task that took many weeks to complete.
Almost there - not a chance, I then had to think about images and illustrations. I always knew that I wanted to add colour to the book and that the map was essential, I loved drawing the fictional world of Straefor. The illustrations had to be polished by a professional illustrator and I was lucky she had the same vision as me.
Weeks passed again when it arrived, the very first hand-bound printed draft, cover and all! Then it really hit me - I'm an author, but we were still not finished, I had to re-read the whole book (yes, book now) cover to cover and this time I found things that weren't correct and changes I wanted to make. So it goes back to the publisher.
Many weeks later it goes to print, by now it's so different from my original story, love it or hate it, like it or not, I'm an author! It may not be a best seller, who knows, but after two years of dedication and perseverance, I am delighted the way Elements of Straefor has developed and already planning book number two!
I hope you enjoy...
Love, Maddi XX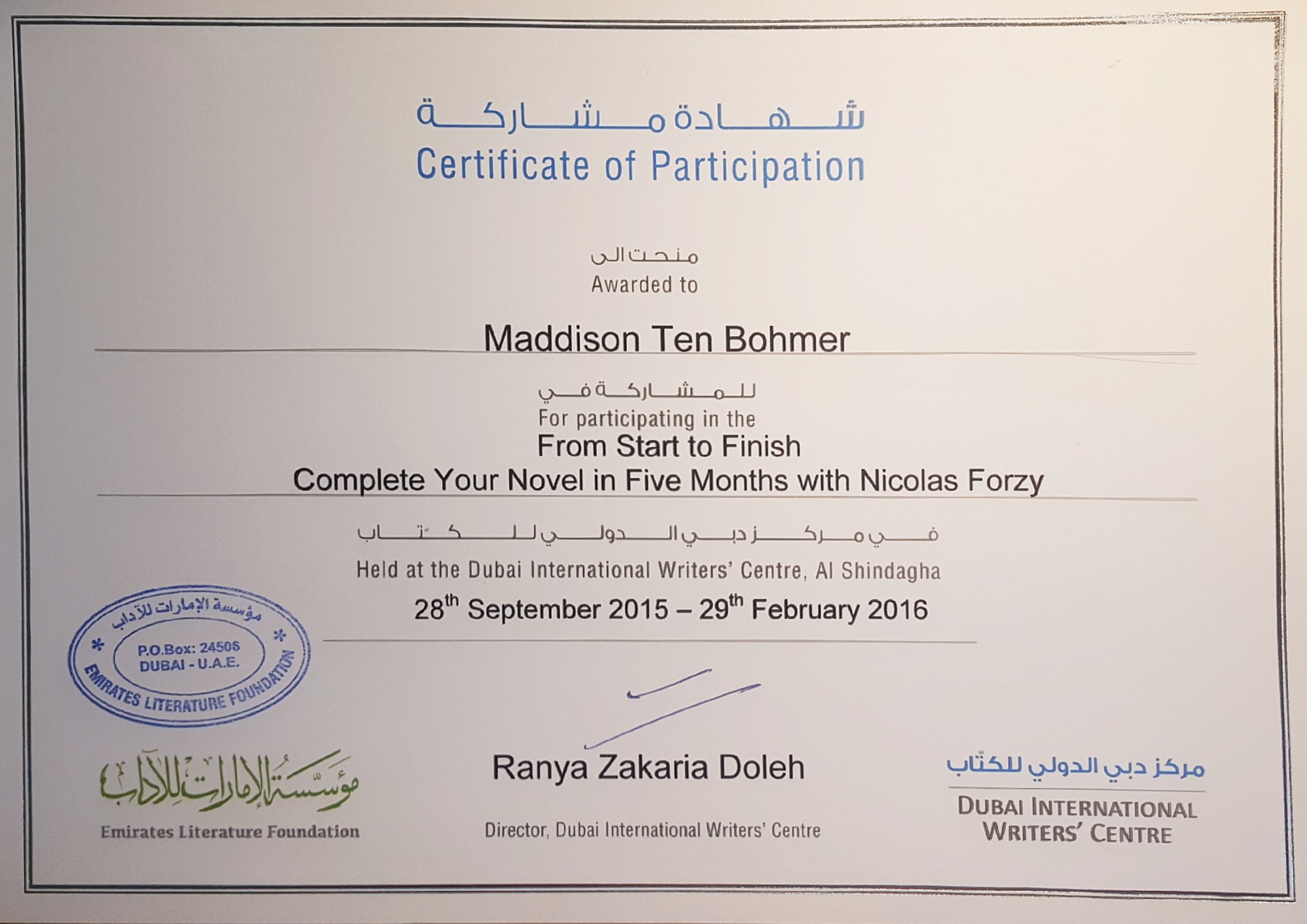 After more than five months, I completed the course. This was not the end, but just the begining of another exciting chapter in my life here in Dubai. A HUGE thanks to the whole team at Emirates Literature Foundation.